The name Bukhara brings images to most people's minds, carpets from Bukhara, the Bukhara Jews, and pretty much any oriental cliché deep in our minds. My expectations were very high, but not quite met. Yes it is the most complete example of a medieval city in Central Asia today, but I personally found it heavily over-restored and commercialized. My favorite place was the Lyabi Hauz, the only remaining pool in Bukhara, shaded by large mulberry trees and surrounded by a gigantic madrassa, restaurants and tea houses, called Chaikanas.
Once Bukhara was an ocean of 300 mosques and 150 madrassas. It got rich through trade like most towns along the Silk road. At the end of the 18thcentury trade moved onto the ocean and with the Russian Revolution 1917 the Emirate of Bukhara ceased to exist. Under Soviet time the city luckily was not turned into a Soviet style town but left to decay. This later allowed to renovate the buidlings, mosques and madrassa using the original material.
Nowadays the entire historic center is one big bazaar, spiced up with restaurants and hotels. We were surprised how few tourists were visiting end of October. Well, since large parts of the bazaar are covered by domed roofs it is also a place that can be visited in the sweltering summer heat. Nowadays, the ware sold caters only to tourists and is pretty much the same wherever you go.
We set up camp right at Lyabi Hauz, the pool makes it a green and cool oasis in the heart of Bukhara. Once Bukhara had many of these water reservoirs, where water carriers filled their leather buckets. During Soviet times, around the 1960s, the pools were closed or hygienic reasons. On one side of the square is a big madrassa that has been turned into an event venue, the former rooms of the students are now souvenir stalls.
Right after our arrival in Bukhara we struck gold. While trying to buy trains tickets in a room full of people who did not understand what we wanted, an elderly lady came to our rescue. She spoke English and as it turned out, perfect German as well. Lina, originally from Arkhangelsk.
She was sent to Bukhara as a young teacher, fell in love with a local man, the city and stayed. She gave up her teaching job to become a tour guide.  Her knowledge about Bukhara was impressive and when we asked if she knew a guide in Samarkand, she passed us on to her friend Olga. How lucky can you be!
Buchara's magificant sights
The epicenter of historic Bukhara is Poi Kalyan, a gigantic square with two mosque opposite each other and Kalyon Minaret. Po Kalyan  which translates "At the foot of the Great", which refers to the 45m high Kalyon Minaret. The structure has stood here for 900 years, and not even Genghis Khan dared to destroyed this beauty. I don't remember why we did not climb up, since I love bird-eye views. Maybe it was closed, maybe I did not want to be reminded that until the 1800s prisoners were stuffed into sacks and thrown off the top.
The best photos are made around sunset from the roof-top restaurant across. From there you can also see the dome and large roof of the adjacent Kalyon Mosque. And even more important, you can see "behind the scene". It was only there that we realized that buildings not restored yet were hidden by large billboards. It was easy to imagine that soon they would disappear and be included in the historical complex.
Kalyon Mosque is enormous and still used as a house of prayer, it is peacefuland quiet. It has escaped the fate of most places along Uzbekistan's silk road route and is not infiltrated by souvenir stalls. In the open courtyard a lonely tree sits in its centre, under the roof stretches a network of simple white archways.

Opposite of Kalon Mosque is Mir-I-Arab Madrassa with its startling blue dome. About 180 young men are presently studying there to become imams. It is not open for tourists, who can only look into the central courtyard.
The Ark, cannot be missed since Bukhara's ancient fortress is huge and on every poster/ postcard about Bukhara. Thanks to the advice of our local tour guide we did not spend time and money to wander around inside. Except a few rooms not much can be seen inside, she explained. The outside is too perfectly restored for my taste, only in the back a bit of the original structure is visible. This military fortress once housed many royals of the ancient kingdom. The area in front of the main entrance was used for executions, which the Khan watched from the balcony above.
Chashma Ayab Memorial is a bit to the west of the Ark. Legend has it that the prophet Job struck the dry soil and a spring of pure drinking water burst from the ground and saved his followers from thirst. The city grew around this holy site and may be the reason why Bukhara's early Jewish community settled around this site.
Also nearby is Bukhara's oldest Islamic monument, the 10th century Ismail Samani Mausoleum, which drew large numbers of pilgrims and became the resting place for many ancient kings.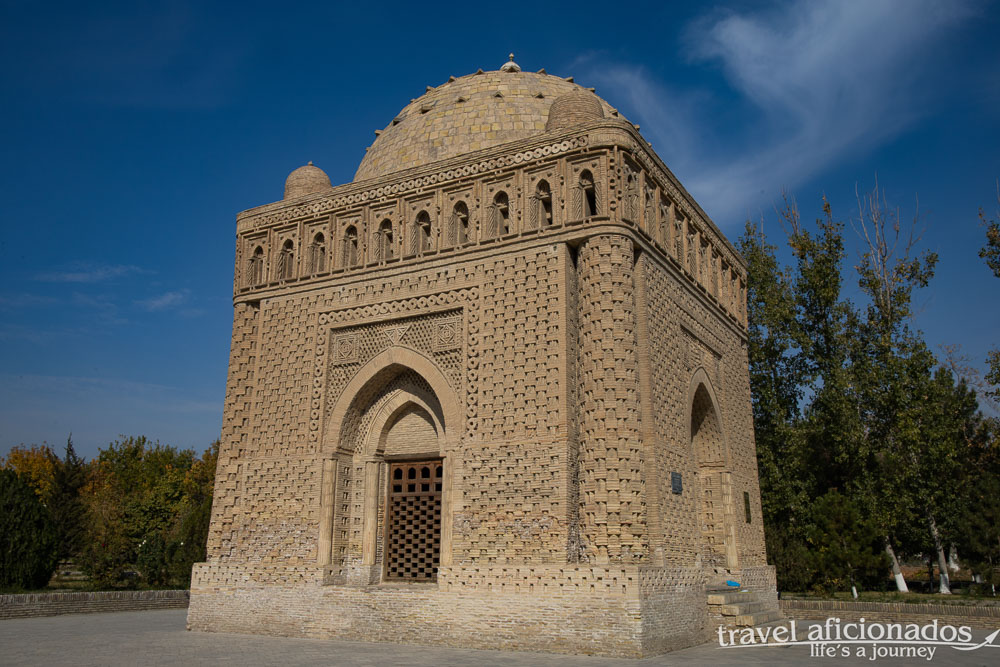 Little Char Minar, this unique little mosque in the suburbs of Bukhara, is a bit away from the historical complex. The taxi ride allowed us to see real Bukhara, outside the heavily restored center. Around Little Char Minar are restaurants and souvenir stalls
Outside Bukhara
The great theologian of the 14th century and founder of the Sufi Order "Naqshbandia" is buried 12 km from Bukhara in his native village of Kasri Orifon. Apart from the Mausoleum of Bakhaudin Nasqshbandi there are beautfiul building, a pond and a quiet courtyard where people pray. When we were there only few people visited, but the parking lot outside is gigantic, so this Muslim shrine must draw large crowds at other times.
Bukhara's Jews
No matter where I travel if there are places or traces of Jewish life I visit them. The synagogue and community center in Bukhara reminded me of my visit to  Birobidzhan, Russia's Jewish Autonomous Region near Kharbarovsk in 2017. In both places so few Jews are left, and those who stay desperately try to keep the community alive. In Bukhara an estimated 100 to 150 Jews are determined to preserve Jewish tradition. Bukhara is one of the world's oldest Jewish communites and centuries past was one of the biggest.
Hidden in a back street not too far from Lyabi Hauz, we were welcomed by two elderly men studying a large bilingual newspaper. They told us they read the Russian version, it was easier than reading in Hebrew. The 16th-century synagogue is in good shape due to contribution from Jews in the diaspora. Once the emigration law relaxed, many left for Israel, the USA or European countries.
For our Howard travel to Samarkand we used the most comfortable train,