Gigantic fortresses, beautifully restored medieval towns, great hiking in the Tatra Mountains and unspoiled nature. Travelling in Slovakia was the most stress-free trip I have ever had, mainly due its flawless public transport system. I basically drifted through the country, using almost exclusively local trains. I had a vague idea of where I wanted to go, so the trip turned into – hey I really like it here or let's move on.
Slovakia's capital Bratislava is only an hour away from my hometown, the only place I every really visited in this neighboring country. What a mistake! When the Corona Virus limited travel and long-distant travel did not seem a wise thing to do, I figured why no give it a shot and simply got on a train leaving near my very home, with a few pieces of spare clothes in a daybag.
 Trenčín
A few hours later I pulled into the city of Trenčín in the Váh River Valley in western Slovakia near the Czech border. Trenčín huge fortress up on the hill can be seen from Everywhere in town. I loved my hotel and even more the superbly restored historic center with its tree lined street full of little shops, cafes, and restaurants. A short climb from the center to the castle and the view from above over the valley is worth the hike. The interior is vast and there is lot to see, towers and dungeons to be climbed up and down. Also, definitely worth a trip up the city tower what must have been the city gate once. The dome of the synagogue, the spire of churches and a sea neatly red roofs stretch out before your eye.
Tatra Mountains
I drifted further, towards the Tatra Mountains in the most local trains imaginable, meandering along the foot of this mountain range. From the main trainline, a super small train pushed its way to the tiny mountain resort of Štrbské Pleso. I was amazed by the numbers of super fit hikers of all ages using the train. I was already freezing on my way up and felt utterly stupid among all these Slovaks sporting their slick gear. I was wearing sandals and a thin pullover. But when I left Vienna, I had no idea where this trip would take me.
The friendly welcome in the very spartanic hotel Turistická Ubytovňa SHB made up for my misery. Not my first choice but EVERYTHING else was booked, even the most expensive Grand Hotel Kempinski High Tatras for 250€. So I booked a three bed dorm-room for myself for one night and stayed in bed until late morning, till temperatures allowed a walk around the charming lake with bare toes.
A friend kept sending me suggestions as where to go on WhatsApp and Tatranska Lomnica was one of them. A cable car takes you up to 2100m. The line waiting to get into the cable car was frustratingly long but I had come so far, so I just endured.
Tatranska Lomnica reminded me very much of Austrian mountain resorts, even the long line waiting for the gondola. First, I couldn't see myself waiting for an hour, but then I figured I have come such a long way, why not.
A smaller chair-lift was part of the ride and by that time I was wearing everything I had. My toes in my sandals were getting numb by then and all I worried about was a technical problem that would leave me dangling high in the air freezing.
All went well, on my short walk I even came across some mountain goats.
I fled on the next train to lower grounds and spent the night in balmy Poprad-Tatry. In fell love with the town of Poprad, the gateway to the Tatras National Park. My new home, the Hotel Satel (https://www.hotelsatel.com/en) was warm, cozy, had fast WIFI, and was in the middle of everything. Where to go next?
Poprad – Spišské Podhradie-Levoča
From Poprad I traveled by bus to the gigantic fortress of Spišské Podhradie and the most gorgeous UNESCO world heritage site Levoča, all this can be done in a half a day. For whatever reason I did not find the trail going up to the fortress, although walked all over the small town on its foot. Exhausted I hopped on the next bus and stopped at Levoča with its amazingly restored center. Its mighty city wall protect this jewel from traffic.
What was striking how few tourists there were, while the Tatra Region was really busy, I felt almost lonely walking around.
Prešov
The same day I left for Prešov another incredible beautifully restored historic town. My mouth literally dripped open when I stepped onto the square in front of the large church. Streets free of cars lined by beautifully restored pastel-colored houses, the wide sidewalks are all shaded by trees, not parked cars ruin the photos of this beauty. In the evening the cafes and restaurants are full of locals chatting with family and friends.
My hotel the https://www.hotelblackhorse.sk could not have been more central. It was brand new, they opened just before Covid closed everything down.
Waiting for the train at my hotel in Prešov I got to talk to the owner of the hotel, a lovely gentleman who used to be the major of Prešov and was now an advisor of the Slovakian government.
Medzilaborce – Andy Warhol's roots
Riding the train to the small town in the very northeast of Slovakia I read a lot about what brought small town Medzilaborce onto the tourist map. Andy Warhol's parents emigrated from there to the US and a splendid museum exhibit Shows some of his paintings and family paraphernalia, like letters and photos.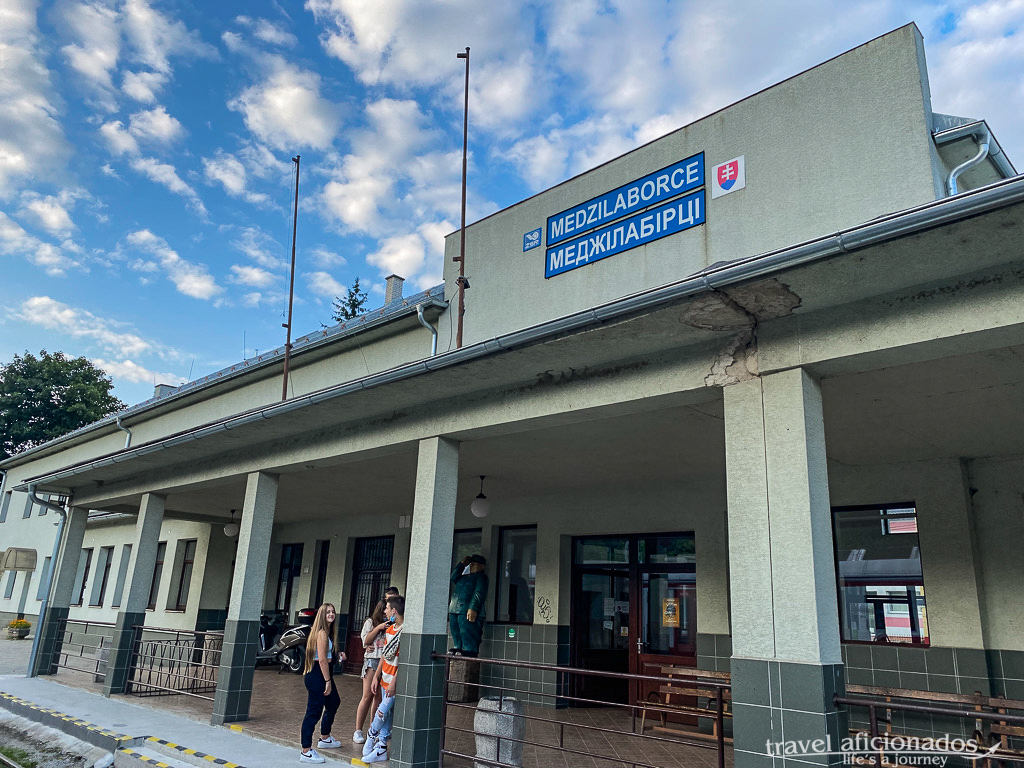 I arrived an hours before closing an literally jogged all the way there from the train station, but actually that hour was enough to cover the whole museum without rushing.
Not less interesting was the small town itself with the white church on the hill overlooking the museum. Lucky me there was a small festival on the river, where local food was served, every similar to an Austrian dish called "Krautfleisch" and I got to do some serious people-watching.
Again, like in all other place I had visited I was the only non-Slovakian tourist.
A large part of the local population are Roma, walking from the train station I could see some areas where they lived and the poverty was striking.
The simple, but cozy Art Hotel became my home for two nights and communication was done to google translator. This is how I learned about the wooden church of Habura about a short taxi ride away, an absolute highlight and worth the 20€ for the taxi, the driver spoke some Germany since he had worked in Germany and I was just happy to have somebody to talk to.
Daytrip from Medzilaborce to Sanok in Poland
Friday morning, I eagerly headed for the train to Sanok in Poland. I was a bit nervous since it did not look like a trainstation and I was the only person waiting. Well, the small, very modern train did arrive with a lovely conductor that accepted credit cards and the trains had WIFI and large monitors that showed all the stops along.
The train stopped every ten minutes and it was really exciting to see the various trainstations, some were really stations some only a sign in the grass.
I took photos of EVERY stop and in Łupków the very border between Slovakia and Poland I even got off and asked the conductor to take a photo of me. I reminded me of my first to Poland in 1990 when I waited 5 hours at the border. 30 years later, it was a 10 minute stop.
Going back from Sanok to Medzilaborce on "my" small train was now a familiar experience, but I could not resist I taking a photo again of each station.
This train only runs on weekends and I strongly recommend doing this trip, but you need to plan your trip around it.
Sanok – Poland
Sanok's historic center is breath-taking, I strolled around and fell in love immediately. To my surprise the town was packed with tourists and I simply could not get a room, nothing, despite the help of so many receptionists at the various hotels I tried. They called friends renting out rooms, but I was out of luck. I had to catch the only train back to Medzilaborce, no matter what. So I felt a bit rush, I wanted to see the museum and hike down to the peaceful river.
I managed to see most of what I wanted to see but Sanok certainly deserves more time than a day.
Košice
It the absolute star of Slovakia's many beautifully restored history centers, the Queen of
Košice – Plešivec – Domica Cave -Vienna
I did this trip in one day. Well, this was not the plan.
The Domica Cave is near the Hungarian border and famous for its vast system of caves criss-crossing the border between Slovakia and Hungaria. The absolute attraction is a boat ride in this underground system between two countries.
It was very complicated to reach, first I took the train from Košice to Plešivec. The only place open was a small café, where I ate a pink cake and listened to Deutsche Welle on the radio. The bus then took me through the most rural area imaginable along the Slovakian-Hungarian border.
The bus driver dropped me off at the entrance of the visitor center of the Dominca Cave, only me,  and this is where I first had my first doubts.
The building itself was also empty, not even employees, nobody, no café nothing.
I checked out the building, knocked on doors, shouted, but there was nobody. Suddenly my eyes caught a sign written in German and English "Due to lack of water boats rides have been suspended." My heart dropped, I had travelled half a day for this and now what. I had even planned to spend one night there and before moving on into the mining region of central Slovakia. Only the walking part was open, but not before noon.
I felt trapped, I knew there was a Hotel. Eventually I found a building, overgrown by weeds, nature had taken over the once hotel. I had it.
I did not even know if there was a bus back to the main train line  that day. I was ready to hitch-hike. Suddenly some Slovakian tourists filled the small parking lot, a guide appeared,  and a small tour through the caves.
At Plešivec trainstation my morale was at such a low that I decided to go home, I just wanted to go home. It was not a fast train to Bratislava but it was a train, and could not wait to get home that very day. Bratislava is only another hour away from Vienna and I hardly could believe that I travelled from the very south-east of Slovakia to my hometown in one day, doing even the detour to the cave.
The mining region had to wait for two months to be explored. In October 2022 I went back with my friend Barbara and we spend four glorious days in Banská Štiavnica.