Most likely a trip through Lebanon starts at Beirut airport. On my first trip I had not arranged a pick-up and was turned not to find a taxi at 2.30am. So I jumped into somebody's friend's car that somebody called and felt pretty stupid doing this. On my second trip I had the hotel send me a taxi, which should between 20-25 US (April 2019).Within Beirut I walked a lot and this is the best way to explore the city. I strongly advise to join the  walking tour with Alternative-Beirut at the beginning of your trip. It is a great way to get to know the various neighborhoods of Beirut and to meet people for future outings. To give you an idea of distances, I walked one from the water front to the Nationals Museum without much effort. Even the whole Corniche along the. waterfront can be done.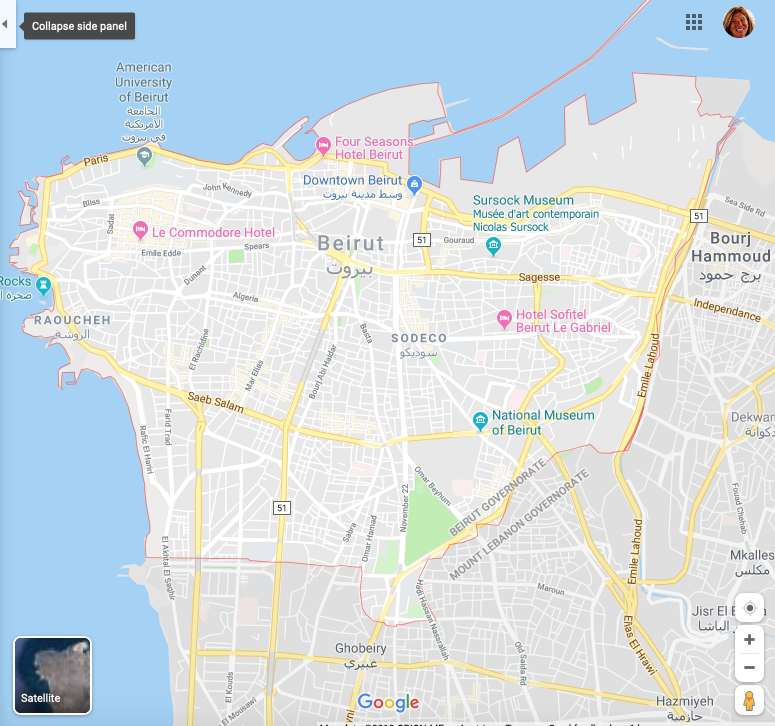 The walkway along the Corniche is also great for cycling and dare-devils can meander around the traffic on motorbikes.
Taxis are really cheap in Beirut, even cheaper are shared taxis, and absolutely safe. Inner-city buses exist, but I found it too difficult to figure out in this short time.
From the big bus stations in Beirut busses leave for all major towns. Nothing is really far away in Lebanon if it weren't for the nerve-wrecking traffic jams. Especially leaving Beirut is a nuisance, although it seems you never leave Beirut because the cities merge into each other. Without these jam, the most northern city Tripoli and most southern point Tyre would be a 1,5 hour drive each way. Hostels organize tours to Sidon, Tyre, Byblos, Tripoli, Quadish Valley, Balbeek, Anja, to mention the most popular places for tourists. So do tour operators, which are usually around 95 US for a day trip and pretty expensive. Most hotel happily organize taxi to each of these destinations. A trip to Balbeek and Anjar runs up to 100 US, but if you share it by four, it is good investment.
I be frank, Beirut put a spell on me, I rarely felt so comfortable in a place immediately after arriving. I travelled alone and was not lonely for a second.
The first few nights  I stayed in the district of Hamra, at the https://www.hamragardens.com/en. I chose the hotel for its location near trendy shops, restaurants and its roof top pool/bar.
Grand Meshmosh Hostel in Gemmayze
After a few days in Hamra I moved to the Gemmayze District, Beirut's bohemian quarter, with narrow streets and beautiful historic building from the French era.
My stay in the Grand Meshmosh was one of the highlights of this trip. A home from home and certainly one of the many reasons why I came back six months later on my way to Syria. The owner Michel knows his business well and makes all of his guest welcome. It is the perfect place to meet other travelers and join in on common activities. Its location on the steps of St. Nicolas is simply perfect. Away from the noise of the bars but only a couple of minutes away from them. The food at Grand Meshmosh is great, the bar well stocked and the cozy outdoor area allows for lingering away after an exhausting day of from sight-seeing. This is also where I met my traveling buddies for the various destinations in Lebanon. Michel is helpful in getting his guests to get in contact  for trips all over Lebanon.
On any future trips to Libanon I would stay a few day in the Quadish Valley and take time to explore the north of the country. I stayed based in Beirut which was convenient, but also meant to leave Beirut in heavy traffic for any destination.