For many the country is still associated with Hezbollah and Lebanon's Civil War, even 20 Years after it ended.  What I found was a land of stunning archeological sites, amazing scenery and the best food ever. Every possible civilization that passed through the Middle East has left its traces. I travelled the country alone in October 2018 and not for one tiny second did I feel unsafe. Just the opposite, the Lebanese bend backwards to make you feel welcome. The glamorous days may have passt but the bar and restaurant scene in the districts of Hamra and Gemmayze are as cool an bohemian as in todays Paris.
Beirut – the Paris of the Middle East
In the 60s Beirut was the place to be for the European jet set, being under French control for over 20 years and its diverse population are obvious reasons for its vibrant cultural and intellectual life. Add casinos, fancy hotels, art, fashion and a lively restaurant/bar scene you got all ingredients that justify this name. Even the long civil war was not able to destroy that ambience.
Alternative Beirut Walking tour
Hours after arriving I joined a walking tour with http://www.alternative-beirut.com the best and most inexpensive way to get to know Beirut. We leisurely walked for 4 hours listened, learned and marveled. Their focus is on what happens to Beirut's public space and the guide weaves her stories around this. If it had not been for this walking tour I would probably have limited my strolling to the wanna-be-glamorous, soulless downtown area. I never would have discovered the old intact neighborhoods, the many graffiti art work in hidden alleys and the high-rise illegally built on Roman ruins 1800 years old.
I breathlessly soaked up the story of Solidere, a massive real estate scam and the story of the Lebanese Civil War (1975-1990). We stopped at an Armenian bakery serving delicious Lahmadjuns and got to know many hidden gems of Beirut.
I highly recommend taking this tour, the guide also was a great source of what else to see and where to go out in Beirut. It was also  this tour where I met Sinan who joined me on several other outings.
Beirut's many faces
The alternative walking tour introduced me to areas of Beirut other than the wanna-be-glamorous, soulless downtown area. This way I got to know  old historic neighborhoods with little shops and real people, buildings with bullet-ridden facades, small markets, alleys lined with black flag and veiled women. The latter signals a Shite neighborhood, most likely you will see Shite martyrs or clerics on the walls. But despite this martial appearance these are very peaceful places, away from the glamour.
Also the campus of the American University is within walking distance from Hamra, with it spacious campus overlooking the ocean.
The Corniche, north of Hamra, is the place to be for the sunset which turns the steep cliffs in a dark red. The road and walkway  follow the ocean for miles. A must-be is the place is also great for people watching, joggers, bikers and Shite women wrapped in black Chadors from head to toe.
Downtown
Heavily damaged during the Civil War the downtown area was reconstructed by a private company called Solidere. Almost 30 years after the war, the city centre shows off perfectly rebuilt streets lined with Gucci and Prada stores. Manicured lawns, perfectly trimmed bushes but the whole place is strangely deserted, soulless and void of life. Some buildings are really nice, creating a Mediterranean feel, others are outright ugly, the empty shops with dust-covered windows are truly depressing.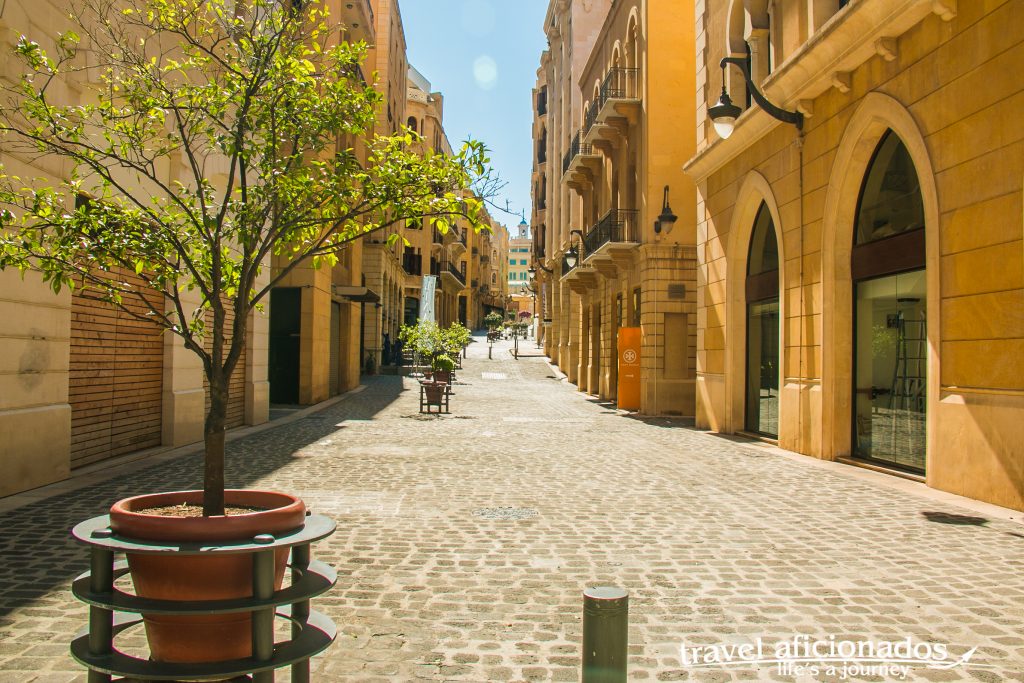 Reconstructed downtown – empty of lifFew places remind of the Roman, Mamluk, Ottoman and French periods. Life only returns on weekends and evenings when the private streets ( barricade guarded by soldiers keep out the  traffic) are turned into out-door restaurants  and where children learn how to ride a bike and play football. Once I strolled around during the day and felt like walking through a ghost city with restaurants closed, designer stores void of customers and not a single person in the street.
Solidere- a story of massive real estate speculation
During the Alternative Beirut walking tour I learned about this incredible story. It centers around a private company called Solidere and the former prime minister Rafiq Hariri.
Solidere was formed to rebuild downtown Beirut after the Lebanese Civil War (1975-1990). The mastermind behind this plan was Rafiq Hariri,a billionaire businessman and then-prime minister, who was assassinated in 2005 by a car bomb.
With this scheme, Hariri, his family owns a rumored 49% of the stocks of the company, and his Arab partners privatized Beirut's down-town. The area was a pile of rubble after the war, 90% was destroyed or damaged and Hariri insisted with Lebanon on its knees it needed private investors.
Hariri's supporters still claim the government would never have been able to rebuilt the downtown area and Solidere attracted foreign investors that helped the country get back on its feet. The vast majority of Lebeanese criticizes the project that – in their eyes – turned Beirut's center into a fake, soulless, life-less Disneyworld. More buildings were torn down during reconstruction than destroyed during the war.
With high-rises going up in every corner also outside of downtown, the era of real estate speculation clearly has not ended. None of them seems to have a single soul living inside.
https://www.lonelyplanet.com/lebanon/beirut/travel-tips-and-articles/a-quick-guide-to-beiruts-best-neighbourhoods/40625c8c-8a11-5710-a052-1479d276a0ce
Beirut's Must-See Museums
The National Museum, located on the former Green Line, offers an incredible number of objects dating back thousands of years but also a few items that remind of Beirut's recent history. Its impressive, magnificently displayed collection of archaeological artefacts give a great overview of Lebanon's history and the civilizations that influenced this cultural crossroads.
This includes a very moving video showing how some of the most precious objects were saved from destruction during the during the civil war. My favorite scene was when the concrete casing around a two thousand year old sarcophagus was removed in a very dramatic way, symbolizing the freedom that came with the end of the war. To give you an idea about distances in Beirut, I walked from Gemmayze district all the way to the National Museum using my mobile phone as a compass. It is quite a walk but it takes you through interesting neighborhoods.
The other must see the Sursock Museum, very close to my Meshmosh Hostel in Gemmayzi. The Greek Orthodox Sursock Family are the most famous and wealthiest among "Beirut's aristocrats", the "Seven Families" of Beirut. Originally from Constantinople, the family has resided in Beirut since 1714. Their immense wealth shows especially in the Gemmayze District, which in the 18th centuries this was outside of the city walls.
On a hill – one of the greenest areas of Beirut – they built various mansions and houses that are now rented for a LOT of money. One of them was turned into a museum exhibiting exquisite modern art. One of the mansions is still lived in by 95 year old Lady Cocraine, the first one the family to marry outside of Beirut elitist circle and proudly has taken on this unusual title since then.  During the Civil War she refused to leave her mansion and traded the water from the wells on her property for her safety. I went there a couple of times to takes photos in the garden, not always was I able to sneak it, with the walking tour you certainly can.